"The Enchanting Train Street Tour at Night is the best experience"
Immerse yourself in the vibrant ambiance as you stroll through the lively streets, filled with local vendors offering tantalizing street food. Indulge your taste buds in a gastronomic adventure, savoring the flavors and aromas of authentic Vietnamese cuisine such as: Pho Bo, Pho Ga, Banh Mi, Banh Xeo, Banh Cuon, Bun Cha…., let your senses be awakened by the rich culinary heritage of Hanoi.
Our tour guide will accompany you throughout the tour, sharing fascinating insights and stories about Train Street and its significance in Hanoi's history. They will ensure that you have an unforgettable experience, filled with cherished memories that will last a lifetime.
Join us on the Train Street Tour at night and discover a captivating blend of culture, culinary delights, and local hospitality. Let the enchanting ambiance and lively spirit of this unique destination leave an indelible mark on your travel journey.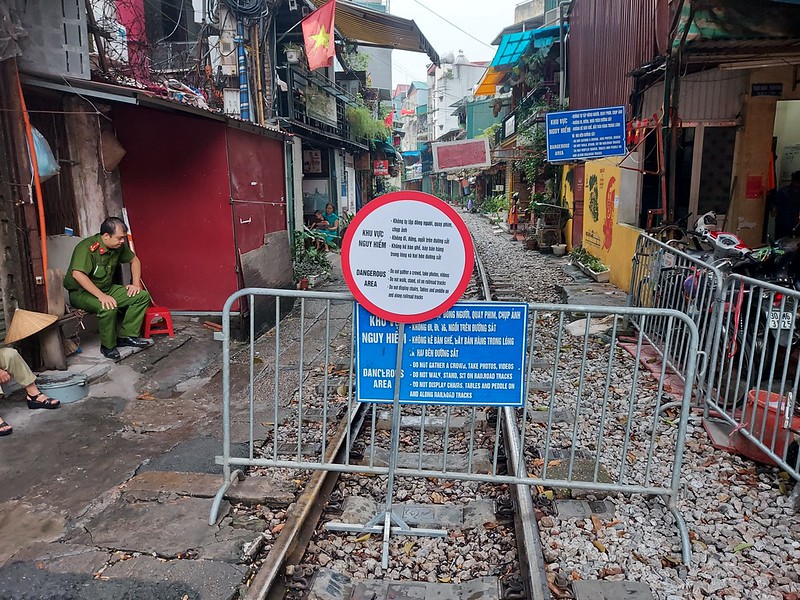 "Hanoi train street is prohibited for tourists who come for photos or coffee by themselves. This causes crowding and makes it difficult to control."
The entry ban to the train street, famous for its makeshift coffee shops along the train track running from Le Duan street to Phung Hung street, aims to ensure security and safety for visitors.
"The tour of TrainStreetTour.com can be done without any problems for several reasons:
We have an international tourist license for organizing tours
The tours you will do with us have permission.
You can get on the train as locals and buy tickets.
The tour guide will help you in a safe way and help you understand local culture and customs, as well as taste local foods.
The train street tour can be combined with a street food tour, city tour, countryside tour, motorbike tour, and more."